The different versions of the Philippine Identification System (PhilSys) including the printed ePhilID can already be accepted as valid and sufficient proof of identity as stated in the public advisory issued by the National Statistician and Civil Registry General, Undersecretary Dennis S. Mapa, Ph.D.. Moreover, the PhilSys digital ID is a proactive approach by the Philippine Statistics Authority (PSA) to allow registrants to instantly reap the advantages of being PhilSys registered. In accordance with Section 7(c)(1) of Republic Act No. 11055 (RA 11055), also known as the Philippine Identity System Act of 2018, this initiative promotes faster and seamless transactions in accessing financial and social protection services for the general public.

The issuance of ePhilID in the province of Kalinga started on the last quarter of 2022. As of March 1, 2023, 86,094 ePhilIDs were issued and delivered as a result of the province of Kalinga's successful ePhilID distribution rollout. 
The PhilSys team issued ePhilIDs through two modes of distribution: house-to-house and plaza-type distribution. For efficient distribution in the province, unclaimed ePhilIDs during the plaza-type distribution were delivered through house-to-house. The challenges that PSA Kalinga personnel frequently encountered during field operations involved far-flung areas. With that, the plaza-type mode of distribution was mostly utilized in the province. 
Constituents of Kalinga were very happy upon receiving their ePhilIDs. During the distribution, PhilSys personnel received positive feedback about the services they obtained with the help of PhilID. Despite the challenges that occurred during the operation, PSA Kalinga was able to reach the 94% of the target output for 2022 4th quarter (October–December). Throughout the first quarter of 2023, PSA Kalinga also exceeded the target output by 33% as of March 1, 2023.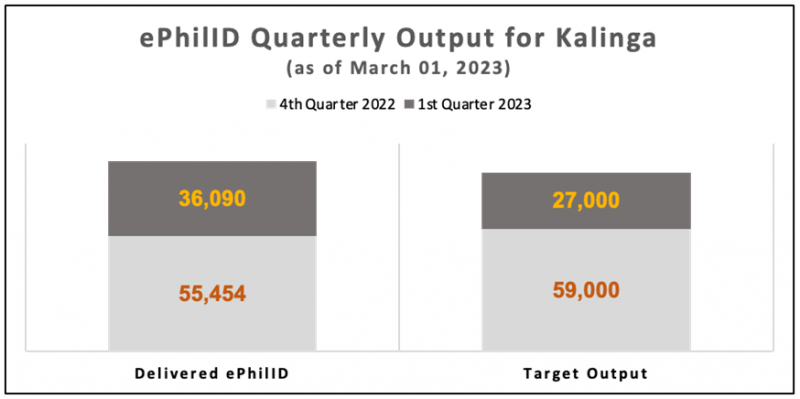 MARIBEL M. DALAYDAY
Chief Statistical Specialist